Association Night with the Steelheads Last updated: October 22 2019 21:16:25
Join us Friday November 15th - 7pm Paramount Fine Foods Centre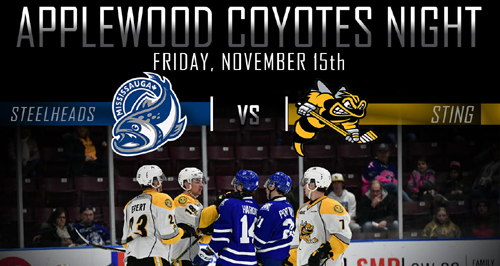 Join us for a great evening of hockey that supports our OHL team, the Mississauga Steelheads and Applewood Hockey Association.
Lots of fun stuff going on including:
Puck toss
TinBits mini-game
Fan Tunnel
Flag program
and more
If you paid $20 at the House League Evaluations you will receive two complimentary tickets from you coach. All other tickets are $10 each, please see your coach to place your ticket order by October 29th.
Please contact Jen Pacheco for further information at j.pach@icloud.com
Looking forward to a great night and don`t forget to wear your jerseys Coyotes!