Team Uniform Sizing Night Last updated: May 16 2018 11:13:22
Gold and 'A' Team Sizing Night - May 24th at Chic Murray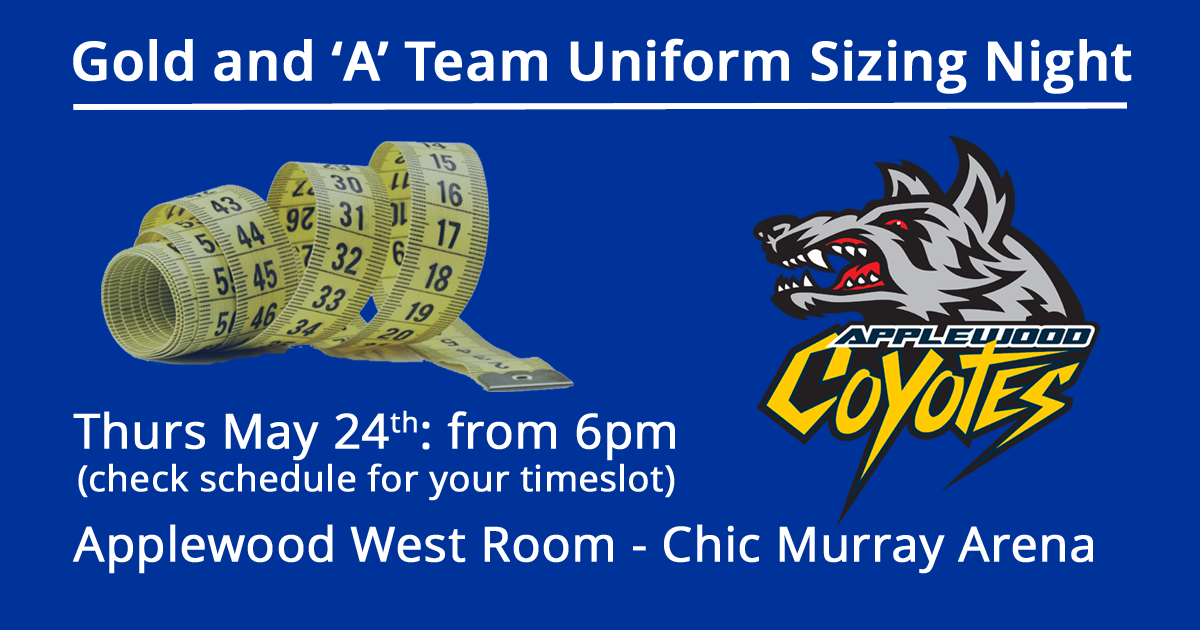 Players, please size for any items you may be thinking of purchasing as we will not be stocking items. All samples / sizes will be available that evening.

Please make all efforts to attend as we are not having a second or make up fitting night. If you need to come at a different time (earlier/later) we can accommodate that but PLEASE advise your coach.

Please remember to bring proper shoulder pads to be fitted correctly for jerseys, and shin guards for fitting the sublimated socks.
Teams please gather 10mins prior to your timeslot and wait in the lobby area until we are ready for you.
Please contact your coach if you are not sure what items are required as part of the team uniform.

Extra items you would like to order from the 2018/19 sportswear catalogue can be ordered that evening and will be billed to the team. Please see your team manager to organise payment.

Schedule is as follows:
| | | |
| --- | --- | --- |
| 6:00pm | Minor Atom A | Jeff Davis |
| 6:30pm | Minor Novice Gold | Chris Stamopoulos |
| 7:00pm | Novice Gold | Luis Cordeiro |
| 7:30pm | Atom A | Jeff Crewe |
| 8:00pm | Minor Peewee A | Mike Galinski |
| 8:30pm | Peewee A | Derek Smith |
| 9:00pm | Bantam A | Chris Stamopoulos |
| 9:30pm | Minor Midget A | Paul Rebelo |
| 9:45pm | Minor Bantam A | Paul Rebelo |