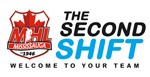 On the heels of the First Shift program which introduces players to skating with hockey equipment, stick handling and shooting, comes the Seond Shift.
The Second Shift ran for 6 weeks and introduces the new players to actual game play.
Congratulations to Applewood's two teams, we really enjoyed watching you grow in this great game of ours. We look forward to welcoming you into one of our Coyote teams in the fall.
Big thank you to Jim McCaffrey for running our First and Second Shift programs, all his assistant coaches from our Coyote teams and not forgetting the folks from the MHL.
Way to go First/Second Shifters!!