---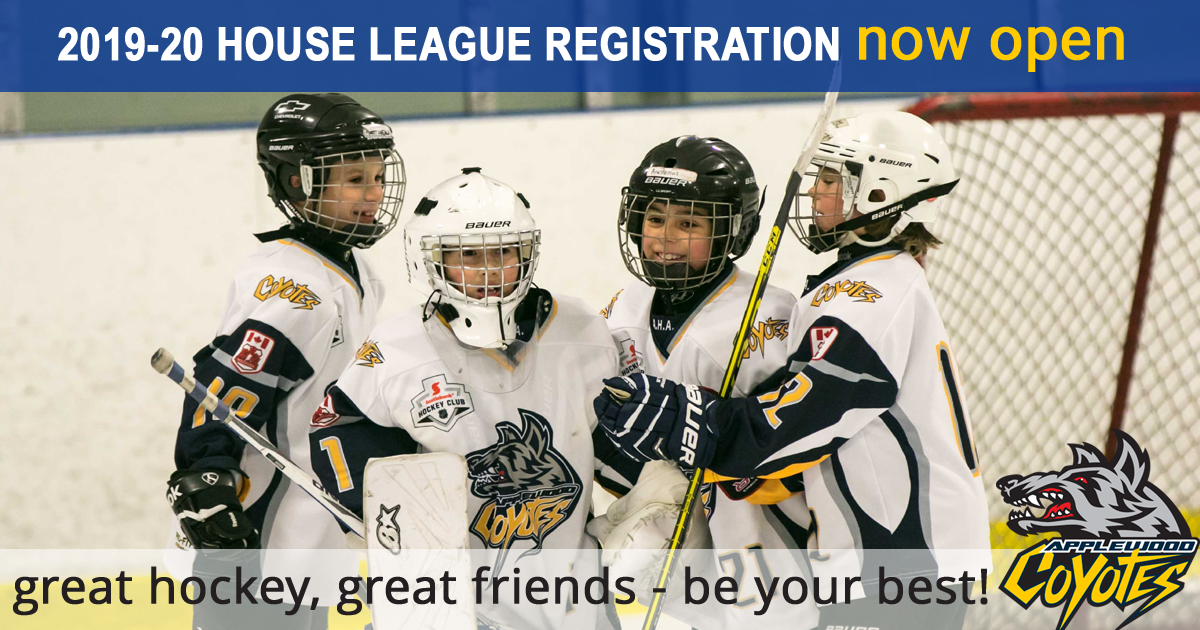 Please click here to be directed to the Hockey Canada Registration System
---
All house league player registrations will take place on-line and will require you to:
Be a resident of Mississauga, limited spots available for non-residents.
Provide your current email address. It is the primary method of communication between the Association and you.
Have a birth certificate number, passport number, or citizenship number (new players only).
New players to the Mississauga Hockey League will also be required to have a copy of their birth certificate on file with Hockey Canada.
One parent must complete the Respect in Sport Parent Program if not already certified.
REGISTER AND PAY IN FULL BY JULY 1st to take advantage of our Early Bird discount of $25, per player
Registrations will be accepted on a first-come, first-served basis, so hurry to secure your spot with Applewood Hockey Association!
FEES
Registration includes all Association and MHL fees, team socks, jersey with player's name, team and individual photo, season end award and banquet.

| | | | |
| --- | --- | --- | --- |
| House League Division | Year of Birth | Total Fee | |
| TimBits (Pre-Novice) | 2013-2015 | $395 | Includes 1 game & 1 practice per week |
| Minor Novice | 2012 | $650 | Includes 1 game & 1 practice per week |
| Novice | 2011 | $700 | Includes 1 game & 1 practice per week |
| Atom - Minor Midget | 2004-2010 | $730 | Includes 1 game & 1 practice per week |
| Midget | 2002-2003 | $510 | Includes 1 game, no practices per week |
SIBLING DISCOUNT
Families with more than one player registering at Applewood will automatically receive a sibling discount when registering online as follows:
1st player: No discount
2nd player: $25 discount
3rd player: $50 discount
GOALIE DISCOUNT
For Atom to Midget divisions only, Applewood offers goalies a $50 discount on registration fees.
There are a number of other ways Applewood supports goalies with skills training including our Summer Hockey Academy which starts May 18th and is no cost for goalies. Details are here or contact Luis Cordeiro l.cordeiro@hotmail.com
REFER A FRIEND
The MHL offers a $50 rebate to any registered player who refers a new player to join the MHL who has never played in the league. Full details and how to apply for the rebate can be found at www.hockey.on.ca/programs/
PAYMENT PLAN
Applewood offers a payment plan when paying by credit card. Payments can be spread over three staggered payments on June 1st, July 1st and August 1st. This cannot be combined with the Early Bird discount.

The Respect in Sport Program is an accessible, online resource for the prevention of bullying, abuse, harassment, and discrimination (BAHD). The program's mission is to empower participants to recognize signs of BAHD and eliminate it from the game, through a global culture of respect. It was introduced in 2016 by the Ontario Hockey Federation together with Alliance Hockey, GTHL, NOHA and OMHA, and is used by all minor hockey partners across Ontario.
Completion of the Respect in Sport Parent Program is MANDATORY for one parent. If you completed this in prior years, there is no requirement to re-certify.
There is a $12 fee payable to Respect In Sport and the Program should take about 1.5 hours to complete.
For more details visit http://hockey.on.ca/respect-in-sport-parent-program/
To register and start the online course, visit https://gthlparent.respectgroupinc.com/
NON RESIDENTS
The MHL is allowing only a limited number of non-Mississauga Residents per Association. Non-Residents will be charged an additional $65 to participate. Please Note: Non-Residents are accepted only if space permitting.
***ALL REGISTRATION FEES MUST BE MADE IN FULL PRIOR TO EVALUATIONS***
Payment can be made by credit card, cheque or money order.

Cheque or money orders are made payable to: Applewood Hockey Association
Please mail within five days of registration to confirm your spot.
Send to:
Applewood Hockey Association
c/o 1028 Runningbrook Dr, Mississauga ON L4Y 2T2

NSF cheques will be subject to a $45 admin fee.
Division
Year of Birth
TimBits (Pre-Novice)
2013-2015
Minor Novice
2012
Novice
2011
Atom
2009-2010
Minor Peewee
2008
Peewee
2007
Minor Bantam
2006
Bantam
2005
Minor Midget
2004
Midget
2002-2003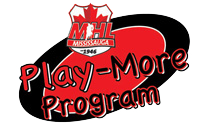 The Mississauga Hockey League and its six member Associations, in partnership with our corporate partners Tim Hortons and Canlan Ice Sports (Oakville), are proud to offer the Play-More Program, a program that assists players unable to participate in hockey due to severe financial constraints. The Program addresses the cost of playing hockey and enhancing player experiences. Please visit the Play-More website for further details and contact info.
The House League evaluation process will help determine your child's skill level and place them in the appropriate level. Approximately 2 weeks after the House League evaluations a coach will contact you to discuss the results.
Evaluations for House League will take place early September at Chic Murray arena. Our website will be updated with specific times in August.
Further details regarding Applewood Hockey's TimBits program can be found here.
Tax receipts may be accessed from the Hockey Canada Registration system. You can reach the registration system by clicking here. 
After you logon to the system you will see an option to "print receipt" for this year's registration cost.
When your registration is complete, a place has been held for you. Should you wish to cancel your registration, a release must be obtained from the Applewood President, and is at his/her discretion and therefore not automatically granted. No releases will be granted after November 15th. Cancelled registrations are subject to an administration fee and will be deducted from refunded fees as follows:
REFUND FEES
Withdrawal up to Aug 15th
$100.00 admin fee
Aug 16th to Sep 1st
$200.00 admin fee
Sep 2nd to Sep 15th
$300.00 admin fee
Withdrawal after Sep 15th
No refund
No refunds given where a false statement is made on the registration form ( e.g. false address submitted). A limited number of non-resident spots are available but must be applied for at the time of registration.