MINOR MIDGET "A" BACK 2 BACK WINS Last updated: September 25 2015 08:49:26
Minor Midget "A" wins both the West Mall and the Richmond Hill Early Birds!
The Applewood Coyotes Minor Midget "A" team (Coach Darren Romain) had a solid pre-season with wins in Early Bird Tournaments at West Mall (Sep 9-13) and Richmond Hill (Sep 17-20).
The Coyotes showed tremendous character, coming back from a 3-1 deficit late in a round robin game against the Brampton 45's only to beat them in the finals to win the West Mall.
By winning their pool at Richmond Hill, the Coyotes advanced in this very deep tournament, facing a strong Clarington Toros to advance. The Minor Midget "A" team sealed the deal with a win in the finals against a very fast Orillia Terriers.
Congratulations to the Applewood Coyotes Minor Midget "A" on a solid pre-season!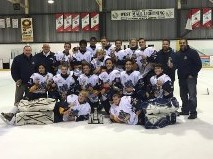 September 24, 2015