PRE-NOVICE PROGRAM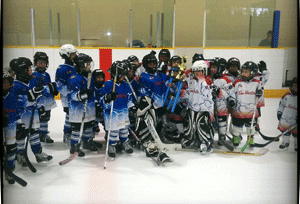 For game results and standings please visit latest news links
The Applewood Hockey Association Pre-Novice Program provides an introduction to hockey for boys and girls ages 4 to 6 years old. The goal of the Program is to learn the basic skills and fundamentals of hockey in a fun and non-competitive environment.
Evaluations will be held mid-September.
The season usually runs the end of September to March.
Practices are held on Saturday mornings with games against other Applewood Pre-Novice teams on Sunday mornings.
There are 2-3 coaches per team to help teach and develop the players.
Players are matched to their skill set.
Every player gets a jersey and socks. The program is currently sponsored by Tim Horton's.
Holiday/Christmas Party and an End of Year Banquet, where every player receives a trophy.
Full hockey equipment, including neck guard is mandatory.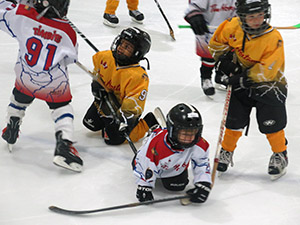 Applewood's goal of the Pre-Novice Program is to learn the skills needed to play hockey, and be part of a team. But the most important thing is to make new friends and have fun!
To join our team, please visit the Registration section on our website or if you have any additional questions, please contact the Program Director Luis Cordeiro.
PRE-NOVICE RULES
Each game consists of three 15 minute periods with a three minute buzzer system.
The teams are separated into 3 equal calibre lines so that all players play against their own skill level. (Red, White and Blue)
There are no icing calls. The offside rule is enforced after four weeks of play for just the Red line only.
All players will have equal playing time.
Penalties will only be called on a flagrant foul (i.e. slashing, crosschecking, high-sticking, etc.). The penalty will be the remainder of the shift.
The goaltender can be pulled for an extra attacker. The level of the player must be of equal or lower level than those on the ice.
When a player is absent, you can only double shift players evenly from the skill level below.
All players must wear full equipment, helmet, mask and hockey neck guard, etc.., and equipment must be CSA approved.
Full standings will be kept and listed on the Applewood web site. The standings are there for the benefit of understanding the rules only. All teams will participate in Championship Sunday.
Finally and most importantly, we commit to making sure that all players enjoy their experience of playing organized hockey.